Festival 2022
From 28 April to 08 May 2022

One of the most vital ways we sustain ourselves is by building communities of resistance, places where we know we are not alone.

bell hooks

The 2022 edition of ORLANDO was born from an open reflection on what it means to make a change, on the privilege and responsibility that each of us has in contributing to a cultural revolution. We live a time when all beliefs have collapsed, but we have the opportunity to build a new balance, both personal and social, that can reduce power disparities and discrimination, in an intersectional perspective. We want to start from desire and emotions to draw a new map of relationships. We want to look for new alliances, structures and contents, to trace a path that will continue in 2023, the year of the 10th anniversary of the Festival and of Bergamo-Brescia as joint Italian Capitals of Culture.
We are amid a metamorphosis and look forward to seeking a new path together with you. We look forward to seeing you at ORLANDO 2022.
VENUES

Bergamo:
Accademia Carrara | piazza G. Carrara, 82
Auditorium Piazza Libertà | angolo via N. Duzioni, 2
Bikefellas | Via G. Gaudenzi, 6
Daste | Via Daste e Spalenga, 13
Giacomo | Via G. Quarenghi, 33 c/d
Lo Schermo Bianco | Via Daste e Spalenga, 13
Sala alla Porta di Sant'Agostino | Via della Fara
Teatro Renzo Vescovi, Monastero del Carmine | Via B. Colleoni, 21
Teatro Sociale | Via B. Colleoni, 4
Università degli Studi di Bergamo| Piazzale S. Agostino, 2

INFORMATION AND ADMISSIONS
Admission conditions are listed under each event.
Reduced entrance fee for CGIL members, COOP members, ARCI members, over 60s, under 27s. Further reductions for Immaginare Orlando and Lab 80 members. Reduced price tickets are also reserved for people with disabilities, including free admission for the accompanying person, if provided for in the certificate.
The Festival spaces are all accessible to people with reduced mobility and/or in wheelchairs, except for the Monastero del Carmine.
The Cities by Night | Bergamo exhibition by Valentina Medda also includes tactile access and an introduction in Italian Sign Language (LIS). The guided tour on Sunday 1 May will be in LIS and Italian.
The films scheduled are all in the original language with Italian subtitles.
For specific needs, please write to info@orlandofestival.it and we will do our best to accommodate you!
Tel. 320 6149443
info@orlandofestival.it
www.orlandofestival.it
Facebook, Instagram @orlandobergamo
MEMBERSHIP

Make the difference. Dream with Orlando
Throughout the Festival you will have the opportunity to become a member of Associazione Immaginare Orlando and take part in the Festival community! Benefits and agreements with many shops and institutions around the town. Further information on the website orlandofestival.it
ORLANDO is an international queer festival that features cinema, dance and theatre. It is addressed towards a broad, varied audience and characterized by its ironic, inclusive and welcoming approach. Our aim is to experience culture, overcome borders by broadening possibilities of expression and knowledge through multiple visions of reality. We want to raise a generation that is more liberated, and dream of a society that is more sensitive to equal opportunities, minority rights, gender violence and widen the possibilities of expression. We want a society that is brave and willing to explore otherness. During the course of nine days we bring valuable artistic experiences to Bergamo by transforming the city through a rich programme of films, shows, encounters, workshops and events thanks to our network of relations, cultural exchanges as well as national and international partnerships. The Festival and the association are named after Virginia Woolf's novel. Her work clearly proves how cultural, gender, ethnic and affective orientation differences are indispensable to establish a cultural identity that is plural, alive and constantly transforming.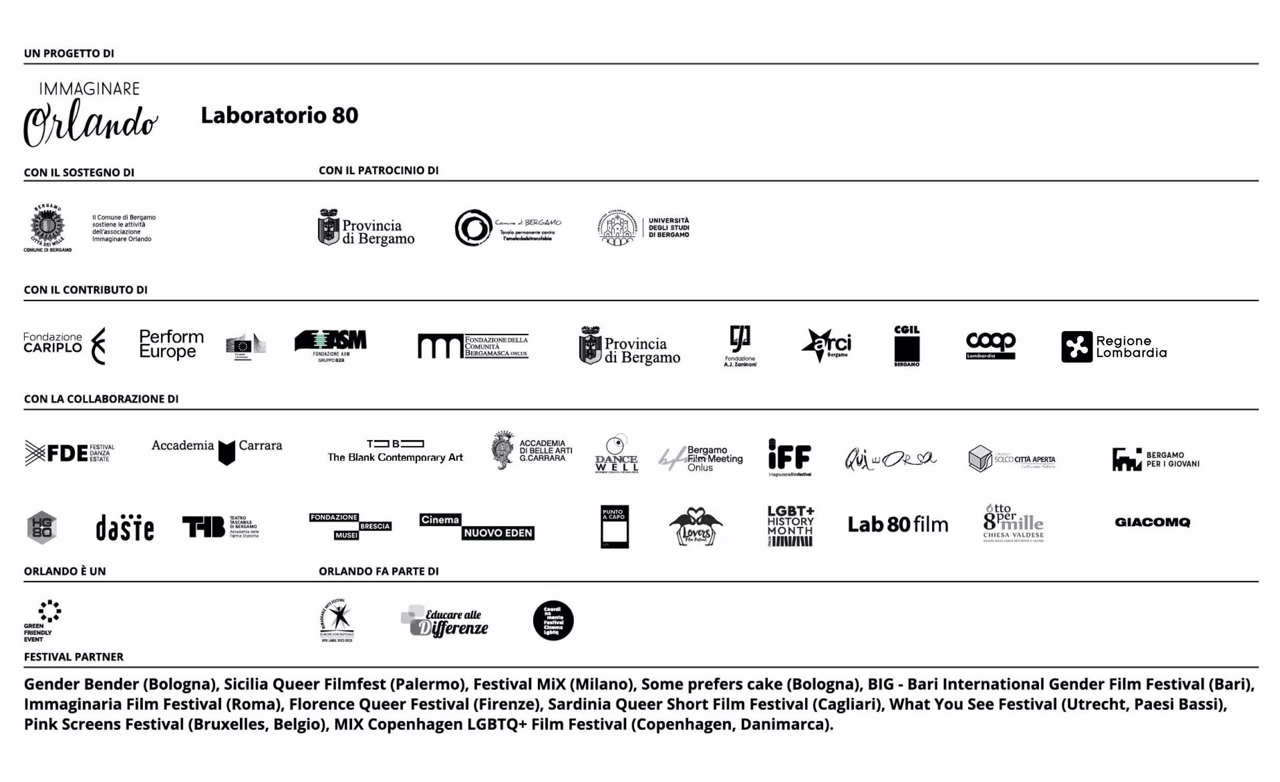 ARTISTIC DIRECTION
Mauro Danesi
mauro.danesi@orlandofestival.it
EXECUTIVE OFFICE
Efrem Foglia
Caterina Sartor
PROGRAMMING COMITTEE
Marco Rizzoli
Giorgia Di Giusto
Stefano Guerini Rocco
Sara Luraschi
Roberto Occhio
Simona Rota
COMMUNICATIONS & SOCIAL MEDIA
Mauro Danesi
Giorgia Di Giusto
Efrem Foglia
Caterina Sartor
comunicazione@orlandofestival.it
PRESS OFFICE
Ippolita Aprile
LOGISTIC & PRODUCTION
Arianna Lenzi
TECHNICAL DIRECTOR
Simone Moretti
PROJECT MANAGER CITIES BY NIGHT ACROSS BORDERS
Silvia Giordano
ADMINISTRATION
Roberto Occhio
Federica Paladini
GRAPHIC PROJECT
Dario Carta
VIDEO PRODUCTION
Alberto Valtellina
PHOTOS
Samanta Cinquini
Carlo Valtellina
TRANSLATIONS
Silvia Giordano
MERCHANDISING
Andrea Buelli
Dario Carta
Monica Donadoni
Jacopo Lazzari
Donatella Rota